Digitaal Vitaal.
Digitaal Vitaal: crystal-clear adoption in a continuous process
The technology you deploy should help people do their jobs. In reality, though, they often struggle to use it. It's an important reason why you lack an unambiguous way of working. What if you want to change your IT workplace under these circumstances? How do you prevent a productivity dip among your employees?
The fact that Microsoft adds new functionality and products to its cloud environment every week doesn't make things any easier. For where will you find the time, knowledge, and human resources required to keep up with all these developments?
How to keep your organization healthy
You want your employees to know how they can use technology in such a way that they'll develop the best way of working. After all, this will positively impact the entire organization. Briefly put, you need to change course. The key to doing this is adoption, which is a continuous process rather than a one-time service. Why? Because you should never stop discovering and embracing technology.
If you work with Wortell, we will first determine your people's digital literacy and identify any sore points. Then, we'll decide on the themes that are relevant to your organization (an example includes 'online collaboration'). Employees will be trained based on their roles in the organization and their individual digital literacy.
Here's what the 'Digitaal Vitaal' program does in a nutshell: it keeps your organization healthy. If you opt for Digitaal Vitaal, we will provide you with interesting knowledge and facts regarding the tools you use — not all at once, but on a constant basis!
Adoption: a powerful, tangible process
Adoption is often a vague concept, but Wortell makes it concrete using a variety of resources. For example, we work with several scenarios that fall under seven themes. These scenarios are drawn from real-world experiences: they're based on cases we've often encountered when working with customers. So, we have incorporated a lot of practical experience into our scenarios — from lessons learned to results achieved. We will go through these scenarios with you one by one. As a result, adoption is a powerful, tangible process.
We also work with ambassadors, a small group of people in your organization who are true trailblazers. We train these pioneers to convey knowledge and answer their co-workers' questions. For when someone you know and trust explains something to you, the message comes across better!
Gradually, new questions will emerge. Is this the right approach? Does the program deliver the results we expect? Are we ready to move on to the next theme? At Wortell, we don't make decisions based on our gut feeling. The people within your organization can provide input in a variety of ways. We will, for example, send them questions and incorporate the results into clear dashboards. Employees can also give feedback via our chatbot, JIM. Based on the insights we've gained, we will decide which themes and scenarios we'll roll out in the near future.
This process doesn't end. Consider it a never-ending circle!
Why opt for Digitaal Vitaal?
Crystal-clear adoption services, as we work with themes and scenarios
The rollout of the program is fueled by statistics from your own organization, so you'll be positive you're making the right decisions
You'll work with existing tools that significantly increase quality, which will allow you to focus on the things that matter to your organization
Continuous process: Wortell's professionals will provide you with constant guidance — you'll never be on your own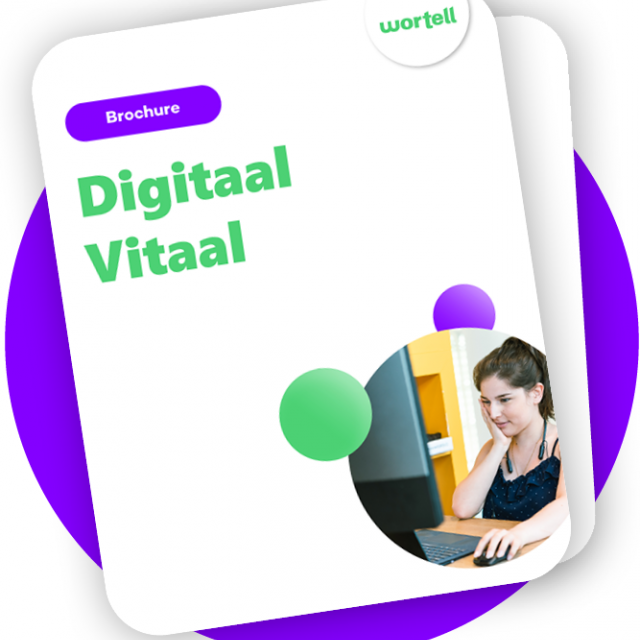 Want to know more?
Brochure Digitaal Vitaal
Read about our Digitaal Vitaal product.