Mission Critical Azure.
Mission Critical Azure: your business-critical data center in Azure
Want to take your data center to the cloud? It's a transition many organizations aim for or have started. Often, the incentive is an organizational need: people ask for more speed, functionality, flexibility, and lower costs. A traditional IT environment simply can't keep up with these things. How to take the first step towards Azure? And how will it impact your organization and IT department?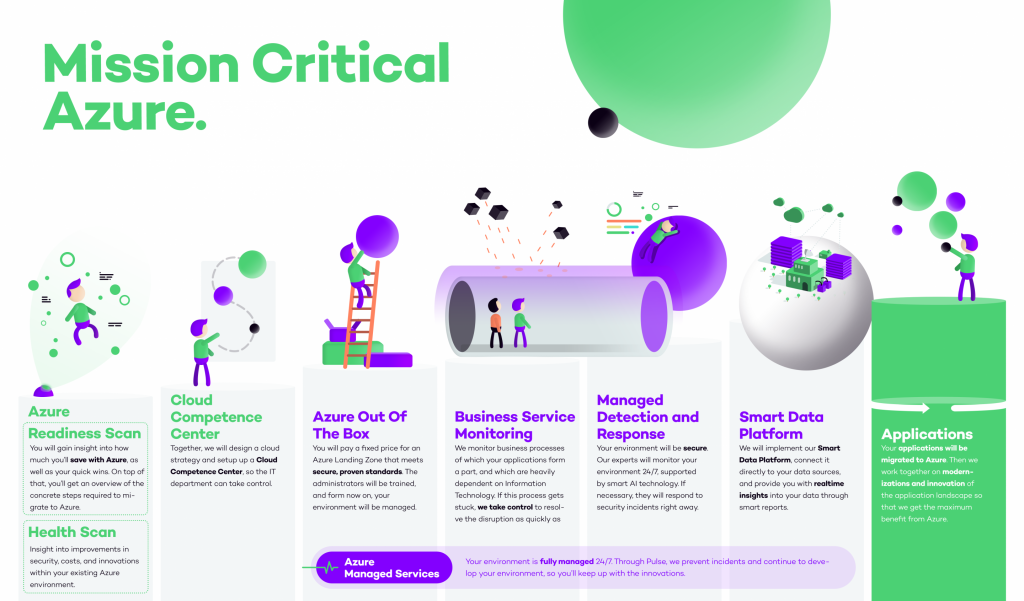 Switching to Azure with confidence: a secure, structured approach
A transition to Azure may cause some concerns. After all, many business-critical applications run in your data center. You don't want them to go down, sit in the cloud unsecured, or cost a lot of money in Azure. We get that — which is why we've captured the transition to Azure in 7 services, adhering to a unique, proven approach. As a result, we can take your data center to Azure in a secure, structured way and continue to innovate.
Featured: In the past few years, Wortell has helped 1.6 million users worldwide switch to the cloud. Mission Critical Azure (MCA) makes it possible to prepare data centers for the future in the cloud in a secure, tried-and-tested way. Switching to Azure has never been easier.
Let IT make the difference for your company
The transition to Azure entails a practical and an organizational change, as it transforms the role of the IT department. The latter will no longer have to turn on servers and applications or keep them up and running. So, what will they be doing? They'll take control of IT, provide their internal customer with support and guidance, orchestrate the overarching landscape, and set up the IT strategy, after which they'll outsource its implementation to various experts. Briefly put, your IT organization will transform to a modern IT organization. If that's what you want to achieve, you can outsource strategy, technology, innovation, and data center management to us through Mission Critical Azure. This will allow your IT department to make the difference for your company.
Offer continuity and innovation capacity to your organization
If your applications run in Azure, you don't want to get a range of error messages when Microsoft makes a change to the platform. A stable environment is essential to the continuity of your company. That's why we provide Mission Critical Azure as a service, and managed services are always included. We will ensure your environment is fully managed 24/7. With our solution Pulse, we will prevent incidents. Furthermore, we'll always continue to develop your environment, so you will keep up with the latest innovations. This will allow you to optimally faciliate your organization and let IT make the difference for your company.
Practical change: "The benefits of the cloud, such as scalability, pay per use, automated updates, continuous innovation, security, and good backups, have resulted in a 'cloud, unless' strategy. Wortell has done this more often, has won a ton of Microsoft Partner Awards, and doesn't have its own data center. And we get along really well." – Rob Kremers, IT director at Hendrix Genetics

Organizational change: "What you really want is to buy IT from market parties like tap water. These parties can usually provide it in a more efficient and cheaper way, allowing the modern IT department to focus on the organization's information needs as well as technological (market) solutions." — Marcella van Kraaij, digital transformation advisor at Humanitas-DMH
Cloud technology develops rapidly, and there's a lack of solid knowledge, which is required to ensure the transition goes smoothly. What if you're a CIO who wants to switch to Azure? Many CIOs are aware of the benefits of the cloud and want to make the switch.
Most IT managers initially tend to worry about the details of a cloud transition. How to find experts who have the right cloud knowledge and experience? Often, there's a lack of extensive knowledge, which is required for a smooth, secure transition. This makes it difficult to start the transition.
Nowadays, finding the right people is no mean feat. Knowledge can easily become obsolete, especially in a rapidly changing environment like the cloud — and the consequences can be major. That's why it is recommended to collaborate with a party that specializes in the cloud, constantly develops cloud solutions to make the platform more secure and user-friendly, contributes ideas, and is always ready to provide advice and assistance based on knowledge and expertise.