Cloud.
Towards a modern cloud landscape.
You've opted for the Microsoft Azure Cloud. You believe in Microsoft's vision. Your organization is all set for a transition to the cloud. But how to truly transform your traditional application landscape into a modern cloud landscape? And how to ensure the best 24/7 security? It's actually pretty easy: join forces with Wortell, the go-to full service provider for all things Microsoft Azure Cloud.
Full service provider: three teams, one cloud
What does it mean to be a full service provider? At Wortell, three top expert teams tackle all cloud matters for you:
The infra team
Using our infra expertise, we help you transition from an existing data center to the cloud. Time for a well-organized migration!

The development team
Often, it's necessary to develop new applications for the cloud. It's what our development team does best. How? By using the latest Microsoft technologies in the Azure Cloud.

The service team
Prevention is better than the cure. That is why our service team proactively manages your data center and applications.
All our teams have the right expertise on future-oriented technologies, such as Kubernetes and Azure Lighthouse.
Moving forward at full throttle using the best technology
Our goal is to empower you using technology. We make sure you have access to top-notch infrastructure and state-of-the-art applications. Why? When the IT and business departments and your end customer are unburdened, your employees can get the most out of themselves.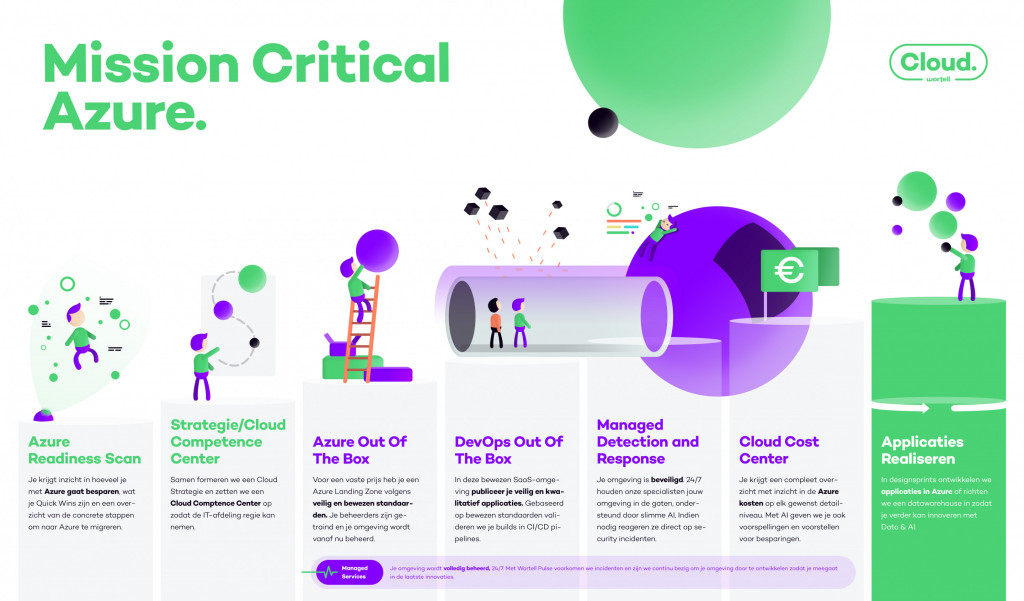 What's our approach?
Our Mission Critical Azure program consists of 7 services you can deploy either as a whole or separately. But if you follow the entire program, you will migrate your data centers to the cloud in a rock-solid way. Here's an overview of the 7 services:
Azure Readiness Scan: we assess your current environment and describe the actions required to initiate the transition to the cloud.
Defining your strategy and setting up a Cloud Competence Center: during strategy sessions, the IT department considers its changing role and receives training on how to communicate with the business department and facilitate new functionalities.
Azure Out of the Box: we set up the Azure environment based on best practices and subsequently manage it, so it's always secure and up to date.
DevOps Out of the Box: we set up DevOps and associated projects, boards, and pipelines according to fixed standards, so you can develop new solutions in a faster, easier, and more secure way.
Security Operations Center: we implement Managed Detection and Response (MDR) to recognize and classify certain suspicious actions and respond to them by taking proactive action.
Cloud Cost Center: we provide insight into expenses by showing which departments, countries, or roles incur which costs.
Realizing applications: we convert current applications from IaaS to PaaS solutions so they'll fit better into your new cloud environment.
After step 3, we can implement Pulse for you. A platform that monitors and tracks your environment using AI, Pulse takes action if it detects unusual behavior. Read more about Pulse [LINK]!
Products