Work.
Rock-solid modern workplace
You're contending with a shortage of IT staff. The few IT employees you have mainly work on things like the workplace, which is why they don't have time to do what you need them to do most: adding value to the primary business process.
On top of that, the management organization and processes are difficult or impossible to scale should the organization grow or shrink. The result: costs are unpredictable.
As if that weren't enough, you also need to comply with a range of legal data security regulations, while your management processes don't meet compliancy standards. If you pull out all the stops, you can take stopgap measures and correct everything to pass an audit. But after that, your hastily built 'compliancy structure' will most likely come down like a house of cards.
Adding value to the primary business process: create room for it!
Suppose you don't have to worry about the workplace at all, because it's rock solid. Your IT employees have time to add value to the primary business process. IT services automatically scale along with significant (temporary or structural) growth or shrinkage. And workplace security and compliancy are top notch.
Would your organization benefit from these things? If so, Wortell offers the perfect solution. We go out of our way to ensure the workplace runs perfectly smoothly. If the end user has a question about the workplace, they should first contact the IT helpdesk they've always known and trusted. But all issues the helpdesk can't solve independently are passed on to Wortell. This will allow your IT employees to work on tasks that add more value to the organization!
A workplace you can rely on
A standardized, secure, compliant workplace for a fixed price per employee per month: that's what you'll get when working with Wortell. We will manage everything from Windows 10 and Intune to Office 365. The workplace will always be up to date and compliant with applicable laws and regulations. Standardization and almost fully automated management ensure that that's something you can rely on!
During and after the implementation, we will use an effective adoption approach to make sure your employees embrace the modern workplace.
Do you expect an auditor's visit? Or do you require insight into where your workplace currently stands? Through the MyWORK portal, you will find all the information you need in a trice. Key users and end users can also access this self-service portal, where they're able to add functionalities or applications to the workplace without having to call in the help of Wortell or the IT department.
Why opt for Work?
Predictability of costs: a fixed price per employee per month.
Possibility to respond to growth or shrinkage: you can scale up or down every month.
One billing relationship: one party manages all facets of the workplace (hardware, software, and services).
Compliancy: an ISO27001-/NEN7510-compliant workplace — including reports during the term of the contract — and the possibility to gain insight into compliancy whenever you want.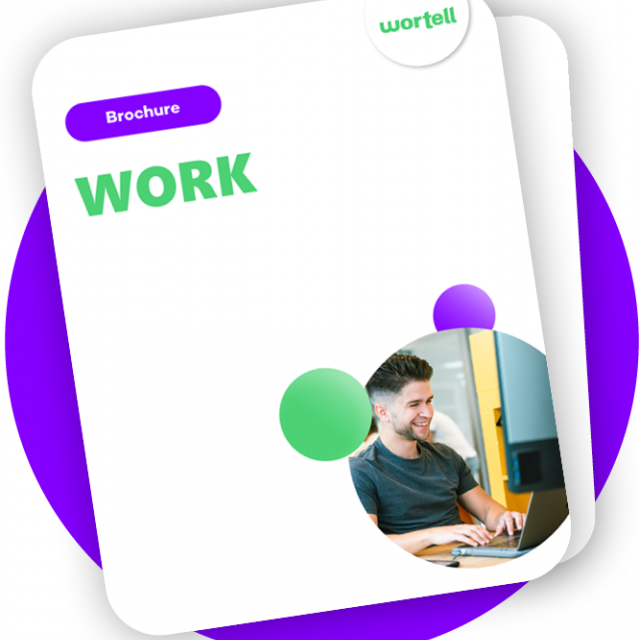 Want to know more?
Brochure Work
Read about the modern workplace as a service, Work.