Close the Gap, the Wortell game.
This article is automatically translated using Azure Cognitive Services, if you find mistakes, please
get in touch
Internship at Wortell
At Wortell we regularly welcome interns. Super fun to work with because they are eager to learn, ambitious, reteslim and they keep you young. For the past six months I had the pleasure of guiding Léon Imanuel. Student Game Development at the HVA. The internship consisted of a framed assignment. Develop a full-fledged game within 6 months, and no, of course you don't just do that.
challenge
The gaming industry is not our business, so there was a nice challenge to link this to Wortell's mission and objectives. With this in mind as a starting point, we worked out the game concept.
Narrowing the gap
Our mission is to empower people with technology. Our aim is to minimise the gap between the endless possibilities at our disposal and the extent to which people and businesses make use of them.
Game concept
Based on our goal to narrow that gap, a game concept has been devised and a main mechanic has been built. Léon then made a complete game design around it. The concept will be further explained during the introduction to the game. PS Star Wars fans are watching you?
Léon Imanuel
"The entire game is built in Unity, a game engine tool. I started prototyped the main mechanics and I started to expand on this. Through user tests I received feedback and applied it in the development of the game."
Léon second from right along with fellow students.
Azure techniques and Unity
Léon continues: "The game also has a leaderboard that remembers the scores of the best players. For this I had Azure techniques work together with Unity. For example, I created an Azure Cosmos database and connected it to the game in Unity. Quite a job, but with the help of the Azure experts at Wortell, it finally worked out well and I learned a lot of new things from this."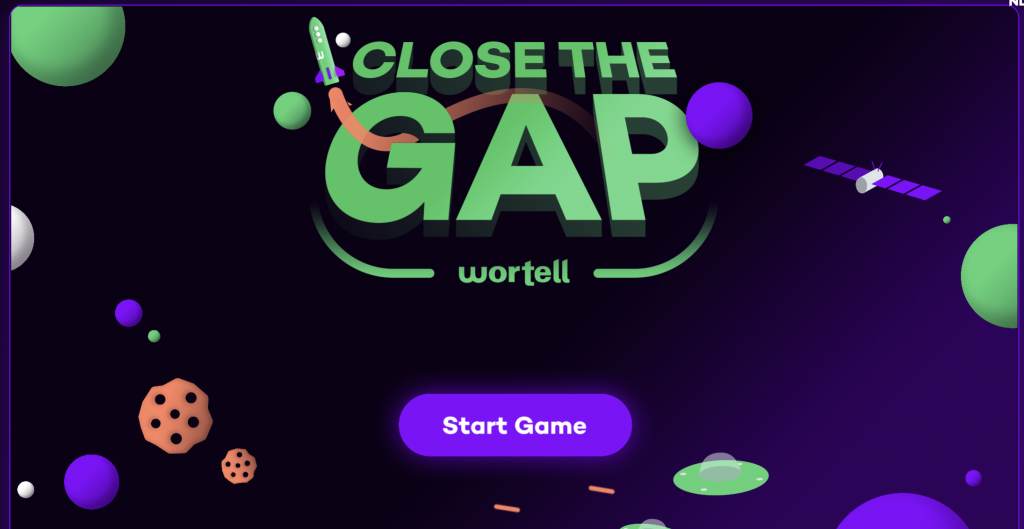 Waypoints, universes and UFOs
"The art and UI design was designed for me and I then implemented it myself in the Unity engine. This plus everything that goes on in the game I manually programmed in Unity. Think of the system of the waypoints, the control of the rakket, the drawing of the universes, the way the UFOs follow you. There are special Game Development techniques behind everything that I learned at school or from myself through research/turorials."
"I am proud of the game and the time I have had at Wortell, says Léon!"
Curious?
The game is live and can be played here.