Managed Detection and Response.
Reactive and proactive security
You want to know if your organization is secure in terms of IT. But that's not easy, as you lack insight into and control over your environment. And you sure don't have time to keep up with all those rapid platform changes — which is a problem if you want to migrate to the cloud or have to make budget decisions. For what's a good security investment?
Preventing problems or nipping them in the bud
Is your organization looking for a 24/7 cyber security service to secure your IT environment? Do you require insight into your cyber security risks? Would you like to rely on experts who take immediate action if a threat is active in your IT environment? And do you want to pay a fixed monthly fee for all of this?
If so, Wortell offers the perfect solution! Our large team of experts has room to work on more than monitoring alone. If we detect a threat, we take action at an early stage to nip the problem in the bud.
Furthermore, we proactively search for threats, such as known leaks. And if we find them, we intervene right away — for example, by blocking a laptop or user account to prevent the threat from spreading further. Subsequently, we work on solving the problem — before it has actually occurred. For prevention is better than the cure!
Collecting and sharing knowledge: continuous optimization of security
Besides using Microsoft technologies, we have developed a smart platform. It's a kind of library where we store all customer configurations. The big advantage is that you don't have to keep reinventing the wheel, as you benefit from each other's knowledge. How does this work?
You can compare it to Tesla cars, which collect driver data and use it to make improvements. That's what Wortell does in the field of security: using Artificial Intelligence, we collect data, threats, and methods used by hackers. We apply the resulting knowledge and insights to all customer environments to make them even more secure.
Additionally, we create customer-specific threat intelligence using our tools. This means you'll spend a lot less money than if you were to buy it yourself. On top of that, you will work in a much more efficient way, as this threat intelligence is completely tailored to your organization!
Why opt for Managed Detection and Response?
In-house developed platform that adds value to the Microsoft technologies we use.
24/7 security service based in the Netherlands, which means we can take Dutch security laws and regulations into account like no other.
Use of cloud technology, which allows you to deploy scalable models and pay for what you use.
Thorough understanding of the context and impact of security, as Wortell is a one-stop shop for the modern workplace, cloud environments, data, and AI — areas in which security is essential.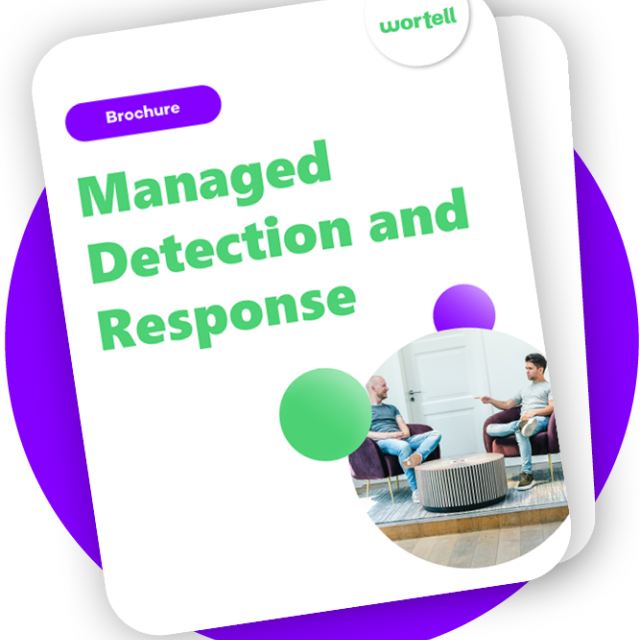 Download now
Brochure Managed Detection and Response
Read more about our Managed Detection and Response product.