Azure RemoteApp presentatie op BriForum 2015 event
Introductie
BriForum is een event wat zich volledig richt op Desktop Virtualizatie, Application Delivery, Enterprise Mobility en Consumerization en wordt jaarlijks gehouden met een editie in Europe en in de US. In de Europa editie van dit jaar (19 en 20 mei in Londen) zal ik tezamen met Benny Tritsch (tevens Microsoft RDS MVP) een sessie verzorgen rondom Microsoft Azure RemoteApp!
Over BriForum
BriForum is een evenement wat ooit kleinschalig gestart is door initiatiefnemer Brian Madden, maar inmiddels uitgegroeid tot een groot en gerenommeerd event. Onderstaand een korte omschrijving, en zie ook www.briforum.com.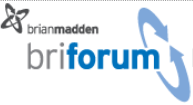 "…BriForum is the only independent conference of its kind to provide a vendor-neutral perspective on current and emerging technologies and services in today's marketplace. Navigating through the data, the devices, and the details (not to mention the vendor-hype) can be a challenge to even the most experienced IT pro, never mind an organization that is just getting its feet wet in the virtualization market. At BriForum we lay it all out for you, whether you've been down this road before or you're just beginning the VDI journey.
BriForum celebrates its 11th year in 2015 – and it promises to be the best one yet! Now that virtualization is getting more and more traction in the field, the timing of this event could not be better…"
Over de Azure RemoteApp sessie
De titel van de sessie is "Unfolding the Azure RemoteApp Magic!". Tijdens de sessie zullen we inzoomen op de verschillende Azure RemoteApp deployments maar ook geavanceerdere onderwerpen aansnijden als Performance, auto-sizing, en tips en truuks! Een volledig omschrijving van de sessie volgt later nog.
Inmiddels is een eerste overzicht gepost met een overzicht van de sessies en de sprekers: Check out the list of sessions for BriForum London 2015 (19-20 May)!
Niet bekend met Azure RemoteApp? Zie ook deze eerder post op de Wortell blog Azure RemoteApp: traditionele Windows applicaties vanuit de Cloud.